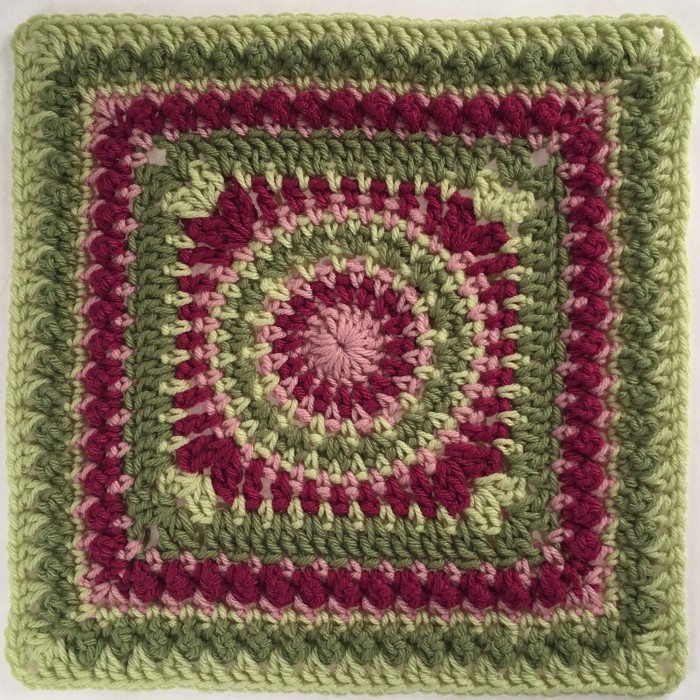 I'm pleased to present Andrea, square #15 in the CAL Crochet A Long's Friends Around the World CAL. If you'd like to know more about this CAL, you'll find everything you need to know on their blog here. I'm so honored to have been asked to be a part of this project which includes simple, elegant squares from designers around the world.
Andrea is named after another dear friend I met on Instagram, just as my previous square, Melanie! The Friends Around the World CAL project was created to celebrate the CAL Crochet A Long Facebook group's one-year anniversary.
Andrea is shown on this page with instructions in English and American crochet terms. Translations are here for Hebrew, Spanish, French, Swedish, Korean, Danish, Dutch and German.
Andrea Square – square #15 for Friends Around the World CAL
By Carolyn Christmas
Size: 12"
Materials
Worsted/Aran-weight yarn (weight category 4) in up to four colors. I used Impeccable by Loops and Threads in the following colors:
A Color 1
B Color 2
C Color 3
D Color 4
Crochet hook size H/8/5.00 mm or size needed to obtain gauge
Gauge: Rounds 1-6 should measure 5 inches
Special stitches
Needle join/invisible join (optional)
Berry stitch: Working on wrong side of work, (sc in next st, tr in next st) around as directed.
Instructions
Rnd 1: With D, ch 5, join with sl st in first ch to form ring (or make a magic ring), ch 3 (counts as dc), 15 dc in ring, join with sl st in top of ch 3 (or make a needle join). Fasten off. (16 dc)
Rnd 2: Join B with sc in any st, ch 1, (sc, ch 1) in each st around, join with sl st in first sc. Fasten off. (16 sc, 16 ch-1 sps)
Rnd 3: Join D with sc in any ch-1 sp, ch 1, (sc, ch 1) in each ch-1 sp around, join with sl st in first sc. Fasten off. (16 sc, 16 ch-1 sps)
Rnd 4: Join A with sc in any ch-1 sp, ch 2, (sc, ch 2) in each ch-1 sp around, join with sl st in first sc. Fasten off. (16 sc, 16 ch-2 sps)
Rnd 5: Join C with sc in any ch-2 sp, ch 1, (sc, ch 1) in same sp, (sc, ch 1) 2 times in each ch-2 sp around, join with sl st in first sc. Fasten off. (32 sc, 32 ch-1 sps)
Rnd 6: Join A with sc in any ch-1 sp, ch 1, (sc, ch 1) in each ch-1 sp around, join with sl st in first sc. Fasten off. (32 sc, 32 ch-1 sps)
Rnd 7: Join D with sc in any ch-1 sp, ch 1, (sc, ch 1) in each ch-1 sp around, join with sl st in first sc. Fasten off. (32 sc, 32 ch-1 sps)
Rnd 8: Join B with sl st in any ch-1 sp, ch 3 (counts as dc), (dc, ch 2, 2 dc) in same sp, * ch 1, dc in next ch-1 sp, ch 1, hdc in next ch-1 sp, (ch 1, sc in next ch-1 sp) 3 times, ch 1, hdc in next ch-1 sp, ch 1, dc in next ch-1 sp, ch 1 **, (2 dc, ch 2, 2 dc) in next ch-1 sp *; repeat from * to * around ending last repeat at **, join with sl st in top of ch 3 (or make a needle join). Fasten off. (11 sts, 8 ch-1 sps on each side, 4 corner ch-2 sps)
Rnd 9: Join A with sl st in any corner, ch 3 (counts as dc), (dc, ch 2, 2 dc) in same sp, * ch 1, sc in next ch-1 sp) 8 times, ch 1 **, (2 dc, ch 2, 2 dc) in next corner sp *, repeat from * to * around ending last repeat at **, join with sl st in top of ch 3 (or make a needle join). Fasten off. (12 sts, 9 ch-1 sps on each side, 4 corner ch-2 sps)
Rnd 10: Join C with sl st in any corner, ch 3 (counts as dc), (dc, ch 2, 2 dc) in same sp, * (2 dc in next ch-1 sp) 9 times **, (2 dc, ch 2, 2 dc) in next corner sp *; repeat from * to * around ending last repeat at **, join with sl st in top of ch 3 (or make a needle join). Fasten off. (22 dc on each side, 4 corner ch-2 sps)
Rnd 11: Join D with sc in any corner sp, ch 2, sc in same sp, * (ch 1, skip next dc, sc in next dc) 11 times, ch 1 **, (sc, ch 2, sc) in next corner *; repeat from * to * around ending last repeat at **, join with sl st in first sc. Fasten off. (13 sc, 12 ch-1 sps on each side, 4 corner ch-2 sps)
Rnd 12: Turn and work from wrong side. Join B with sc in any corner sp, ch 2, sc in same sp, * (tr in next st, sc in next ch-1 sp) 12 times, tr in next st **, (sc, ch 2, sc) in next corner *; repeat from * to * around ending last repeat at **, join with sl st in first sc. Fasten off. (13 berry stitches on each side, 4 corner ch-2 sps)
Rnd 13: Working from right side, join D with sc in any corner sp, ch 2, sc in same sp, * sc in next sc, (ch 1, skip next tr, sc in next sc) 13 times **, (sc, ch 2, sc) in next corner *; repeat from * to * around ending last repeat at **, join with sl st in first sc. Fasten off. (16 sc, 13 ch-1 sps on each side, 4 corner ch-2 sps)
Rnd 14: Join A with sc in any corner sp, ch 2, sc in same sp, sc in each sc and in each ch-1 sp around with (sc, ch 2, sc) in each corner, join with sl st in first sc (or make a needle join). Fasten off. (31 sc on each side, 4 corner ch-2 sps)
Rnd 15: Turn and work from wrong side. Join C with sc in any corner sp, ch 2, sc in same sp, * (tr in next sc, sc in next sc) 15 times, tr in next sc **, (sc, ch 2, sc) in next corner *; repeat from * to * around ending last repeat at **, join with sl st in first sc. Fasten off. (16 berry stitches on each side, 4 corner ch-2 sps)
Rnd 16: Working from right side, join C with sl st in any corner sp, ch 3 (counts as dc), (dc, ch 2, 2 dc) in same sp, * dc in next sc, (2 dc in next sc) 15 times, dc in next sc **, (2 dc, ch 2, 2 dc) in next corner *; repeat from * to * around ending last repeat at **, join with sl st in top of ch 3 (or make a needle join). Fasten off. (36 dc on each side, 4 corner ch-2 sps)