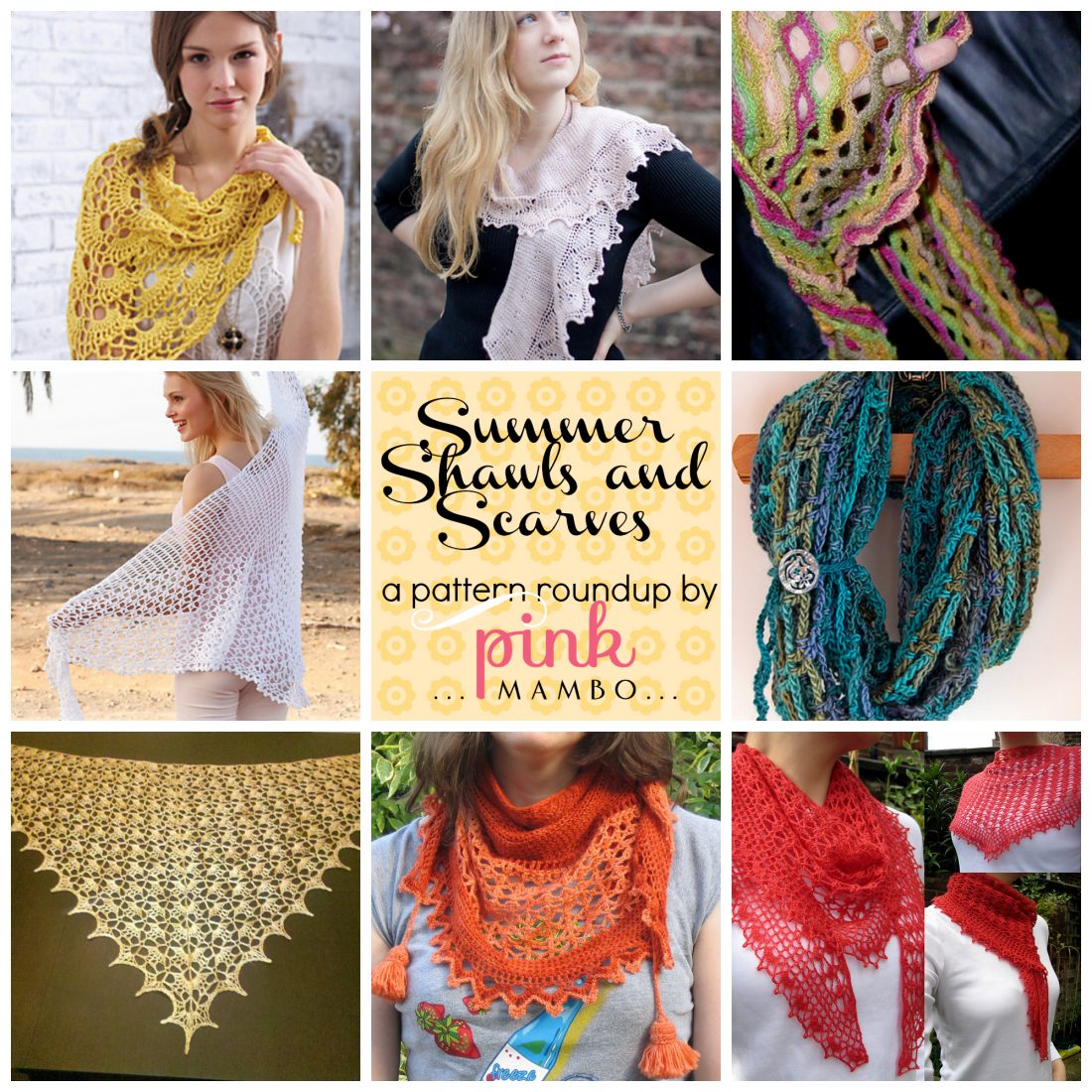 Nothing adds elegance to a summer outfit like a bit of beautiful crochet lace. Here are eight free crochet patterns for lovely shawls and scarves that are just right for summertime wear.
---
1. Yes Yes Shawl by Bernat Design Studio.This is a lovely lacy triangular shawl just perfect for making in a cotton or cotton blend yarn and pairing with your casual summer outfits.
2. PAX by Aoibhe Ni. This gorgeous scarf/shawl made with linked stitches is a work of art. It's a free Ravelry download. Check out Aoibhe Ni's other work on Ravelry too! Truly breathtaking.
3. The Wavelength by Dawn Ellerd, published by Lime and Violet. A free Ravelry download, this unusual 8-ft long scarf is made with fingering or sock yarn and is great in a yarn with long color changes.
4. 148-6 Summer Princess Shawl by DROPS Design. Here's an airy full-size shawl to wear with summer dresses or casual pants outfits. Two pretty lace patterns are combined with a delicate edging.
5. Artfully Simple Infinity Scarf by Tamara Kelly of Moogly. A summer collection wouldn't be complete without this favorite design. Super simple and fun to make, it's wonderful for yarns with long color changes.
6. Elise Shawl by Evan Plevinski. Intricate-looking but deceptively easy to make, this classic lace shawl is designed to impress. Block out the points on the last round for a dramatic edge. This pattern is a free Ravelry download.
7. Juliana Wrap by Rachel Lintern of Quinkish Crafts. Named after the previous Queen of the Netherlands, this pattern is a free Ravelry download available in English, Swedish and Dutch. This unique design is highlighted by tassels that may be draped and tied in a variety of ways–the weight of the tassels keeps it all in place.
8. Summer Sprigs Scarf by Esther Chandler of Make My Day Creative. The designer says, "

This pretty lace weight scarf is perfect for warmer days. It's made from a single skein of yarn, and the main pattern is an easy one row repeat." A beautiful choice for summer, spring or fall.
---
No matter which of these lace scarves or shawls you choose, you're sure to have a wardrobe addition you'll reach for again and again. And of course, any one of these would make a great present for the summer birthday of the lady on your gift list.
Thanks for visiting! You can find more of my work on Facebook, Twitter, Tumblr, Google+, Pinterest, Ravelry, Craftsy and Etsy.