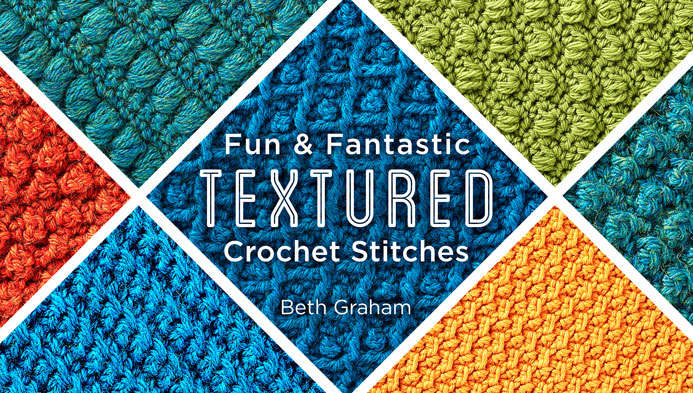 A Review of Fun and Fantastic Textured Crochet Stitches, a Craftsy Class by Beth Graham
by Carolyn Christmas
"Often the simplest methods are the best to get the greatest effect." I knew Beth Graham was a crochet teacher after my own heart the moment I heard this, the very first line she utters in her new Craftsy class, Fun and Fantastic Textured Crochet Stitches. Beth shows us how basic stitches can be combined in interesting ways, resulting in beautifully textured crocheted fabrics.
In this class, Beth covers crochet stitches including the aligned cobble stitch, single crochet picot stitch, crunch stitch and puff stitch, to name just a few. Beth has truly captured a wonderful collection of textured stitch patterns, and showcased them in a fresh, easy-to-learn, way. She also explains basics like how to work with stitch multiples, which is a good concept to know regardless of your skill level in crochet.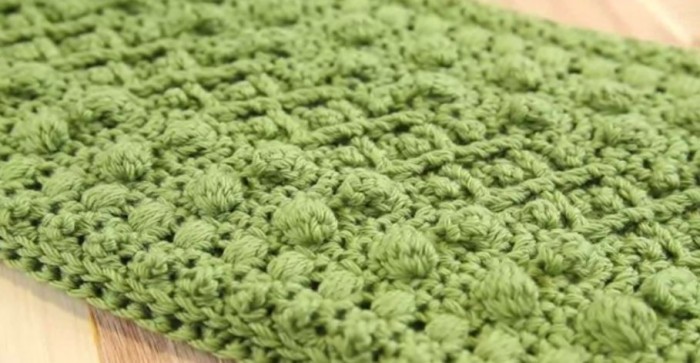 Beth brings each new stitch out and shows it off to its best advantage in a gorgeous collection of projects including a dishcloth, stitch sampler, scarf and cowl. She even gives you a look into the designer's mind as she shows you how to easily use some quick math and her basic recipe to design a dishcloth with your own choice of textures.
There are over 15 stitch patterns shown–patterns that are not difficult to begin with, but they are even easier to understand as Beth breaks each one down into steps so you can achieve success. There are all kinds of cobbles, bobbles, puffs, popcorns, crunch stitches, post stitches and more. I especially like the two grand finale textures with which Beth ends the class.
The excellent printable class support materials include a bibliography, instructions for all stitches and patterns for designs including a scarf, cowl, dishcloth and stitch sampler.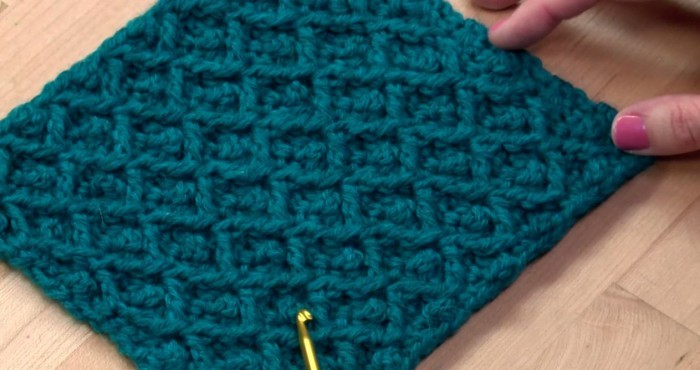 I especially love her Playful Textures Scarf and Cowl. Her richly textured design can be made with worsted/aran weight yarn into a lush scarf, or with fingering-weight yarn into an elegant cowl. I had some Mad Tosh fingering weight yarn just waiting for the right project so had to start one of my own, This is mine in progress: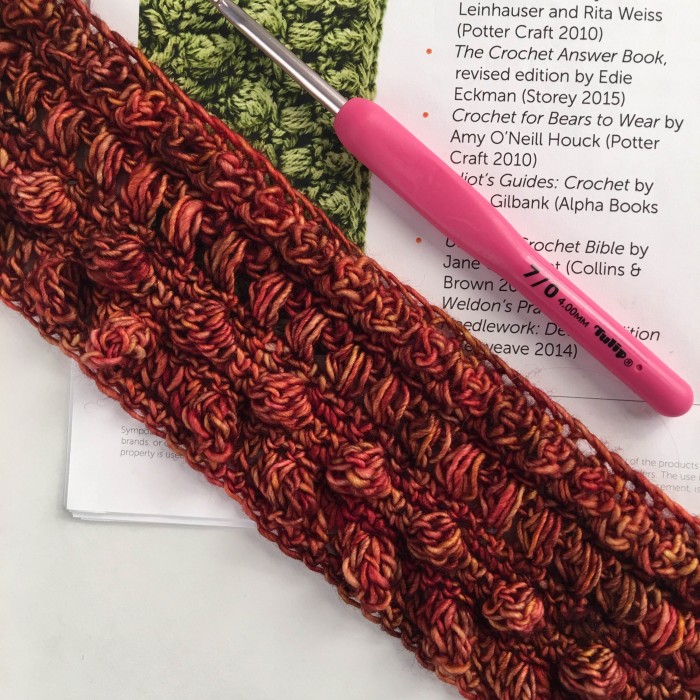 Aren't those bobbles, cobbles, puffs and popcorns beautiful? To me, texture is one of the most interesting aspects of crochet.
So needless to say, I highly recommend Beth's class. For $19.99 it's a real bargain jam packed with hours of close-up instruction by Beth, helpful and detailed class printouts and super interesting subject matter. The skill level is beginner, so no matter if you have just started crocheting or if you're a more seasoned crocheter like me, you're going to be able to learn and get a lot out of this new class.
And as with any Craftsy class, it's available to watch on your computer, phone or tablet whenever and wherever you want to watch. It's like having your very own personal instructor right in your own home–one who's happy to back up and show you again and again if you'd like! Your access never expires and they always have a 100% money-back guarantee if you're unsatisfied for any reason.
I hope you get and enjoy Fun and Fantastic Textured Crochet Stitches as much as I have!
Carolyn xo