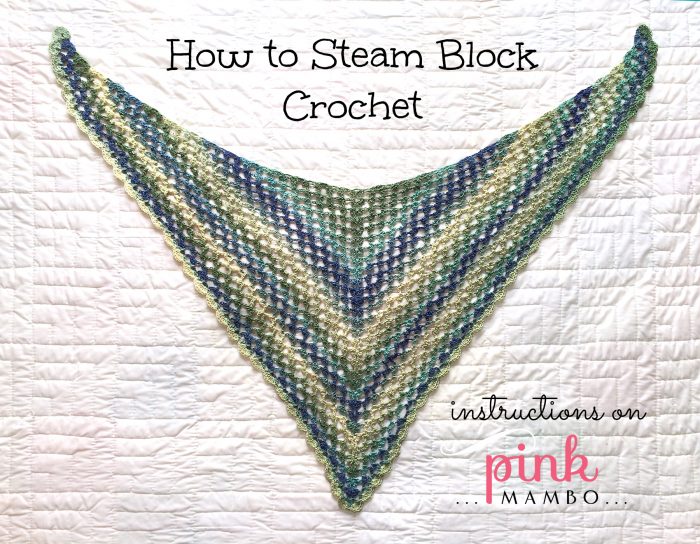 Blocking is the way to give your crochet items a finished, professional look. Blocking smoothes out wrinkles and puckers and evens out edges. Blocking is also a way to gently coax the finished crocheted piece into the desired dimensions or to match the pattern's schematic.
There are basically three methods of blocking—wet submersion, wet spray, and steam. Today we are going to talk about steam blocking. Steam blocking is the method I use most. In my crochet, I don't use a lot of luxury yarns and mostly use acrylic, acrylic/wool blends, wool, cotton, and cotton/linen blends. For these yarns, steam blocking is perfectly safe and applicable. To be safe, try steam blocking your gauge swatch or a practice piece of crochet in your chosen yarn to make sure it can tolerate heat and steam.
For your blocking surface, you can either use a commercially available blocking board or make your own by covering a piece of foam core or insulation board with a thick towel. A piece of checked fabric laid on top of the towel can be helpful as a blocking guide. I block shawls on a bed, using a quilt turned wrong side up as a blocking surface. I use the lines of quilting as a guide to measure and square up my crochet piece.
Many people recommend blocking pins and you may certainly use these, or any rustproof pins, to aid blocking. I don't use them. I find that once a piece is steamed and laid out flat, in most cases, pins are not needed. The exception to this is a pointed or picot-edge border—sometimes these benefit from being pinned out. In any case the first step in steam blocking is to lay your piece out on your blocking surface and gently stretch and smooth it into the proper dimensions. It's OK if it doesn't quite get to the exact dimensions just by you smoothing it out—the steam will help.
I use either a steam iron or a steamer to steam block. I have a My Little Steamer that works great especially for larger items because it has a hose that allows me to reach farther. Most of the time, though, I use a steam iron. To get started, let your iron heat to the lowest temperature that produces steam. When it has a good steam worked up, hold your iron about an inch above the crochet, never allowing the iron to touch the piece, and move the iron slowly around until everything is saturated with steam.
Now use your hands to smooth, stretch and coax the piece into shape, using more steam if needed. After steaming is complete and piece is blocked, allow it to remain undisturbed until completely dry. No cheating! The piece must be completely dry for best results, which depending on the fiber and the humidity, may take an hour to overnight.
And that's it! With this simple blocking procedure, your beautiful crochet can now be shown at its very best.
Thanks for visiting! You can find more of my work on Facebook, Twitter, Tumblr, Google+, Pinterest, Ravelry, Craftsy and Etsy.