Cheerful Child is a baby blanket CAL (crochet along) on pinkmambo.com that appears every Monday and Thursday January 7-February18, 2016.
If this is the first you've heard of this CAL, you'll want to check out all the information in the original CAL post here.
I run a pretty loose crochet along here on Pink Mambo. There's nothing to sign up for and nothing to join so just grab your hooks and start stitching. If you'd like a CAL group to join in Facebook where some people will post about this CAL, I recommend CAL – Crochet A Long. I'm a member there and several people there will be doing this CAL and posting. It's a nice, friendly crochet-only group focused on all kinds of CALS.
Here is a schedule and links to all the blocks and additional information as the posts go live.
Today we are going to talk about three things:
Getting your squares to the same size
Blocking your squares
Joining your squares together
These three things are the key to turning your stack of pretty squares into a neatly put-together blanket. So let's dive right in.
Getting your squares to the same size
If some of your blocks are turning out a little smaller or larger than the others, there are several things you can do. You can try going down a hook size if, for example, your Hadley seems to be turning out larger than the others. I have heard from a couple of people that this is happening. I think we relax more while stitching the simple rounds of dc on the Hadley, and crochet a little tighter with the more varied stitches of the granny blocks. So if you haven't made all your Hadleys that is the first thing I would recommend trying.
If you've made them all, you can substitute a round of hdc for the sc round on the last round of any of the granny blocks that are coming out smaller. This still looks very neat and tidy, and you don't have to change the stitch count. My mother did this on some of her granny blocks.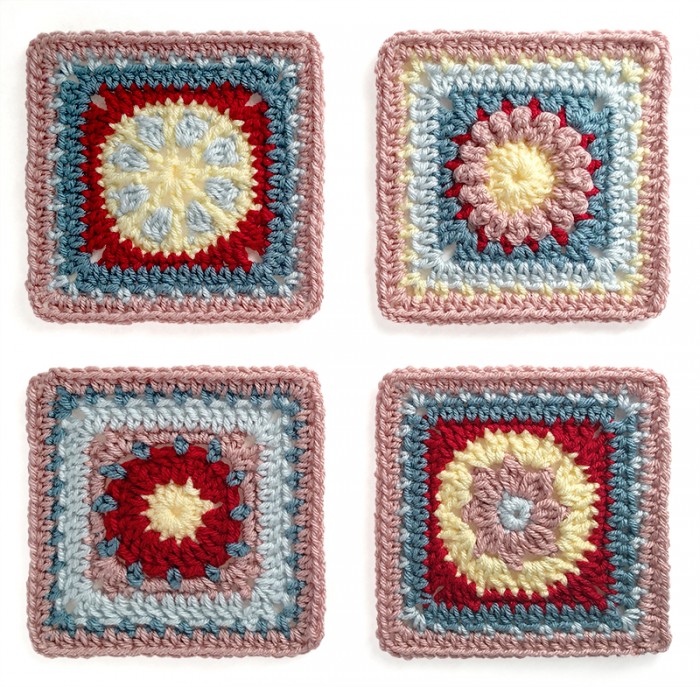 The third thing you can do is block your squares out to 6 inches. Edited to add: I would only recommend doing this if the difference is less than 1/4″. If it's 1/4″ or more, I'd recommend replacing the last round of single crochet with a round of half double crochet as shown above.
This is what I did to block mine. I pinned out and steam blocked each of my squares before putting them together and it made such a difference in how smooth and pretty they were. They were all the same size then and joining them was a breeze. If you don't want to block them individually, you can try blocking the strips of five as you get them made and joined. We are going to go over joining into strips in this post. This is what my mother did on her Cheerful Child. Her blocks were a little varied in size, but she joined the first strip of five together then steamed the whole strip, coaxing the squares into uniform size, and it came out perfectly.
My favorite method of blocking is steam blocking. I actually drew a big square marked off as a 6", 8" and 12" square on my ironing board cover with a fine point Sharpie. I felt like such a rebel drawing on the ironing board cover! It's been very handy though. I just pin out the square to the corners, apply the steam, then use my fingers to coax the warm, damp square to line up with the lines on the ironing board. Let it dry and you're in business. You can also use a piece of gingham fabric with big checks to block.
To steam, set the iron to steam, and if you have an iron that features bursts of steam, so much the better. But either way, use the iron to allow the steam to penetrate the yarn fibers without actually touching the iron to the crochet. If you prefer, cover the crochet with a handkerchief or pressing cloth just to be sure the iron doesn't touch it. After steaming, smooth the crochet with your fingers until it's nice and straight. Then let it dry completely before removing. A hair dryer set on cool helps this process if you're in a hurry.
Again, steam blocking is not the only way to block. It's just my preference. Some people prefer wet blocking.
Here is a great article on making a wet blocking station for your crochet.
Joining your squares together
To join your squares together, you can choose from a variety of joining methods. Dedri Uys did a wonderful 5-part series on her blog, lookatwhatimade.net on many different methods of joining squares together.
For this series of photos, I showed the joining in red for contrast so you could see it more clearly. However, we really chose color B when it came to actually joining the strip together.
I chose to hold my squares right sides together and slip stitch to join through the back loops only. To do this, hold two squares right sides together, lining up the stitches along one edge (A). Make a loop on your hook, and insert it into the back loop of the second ch st of the corner on both squares (B).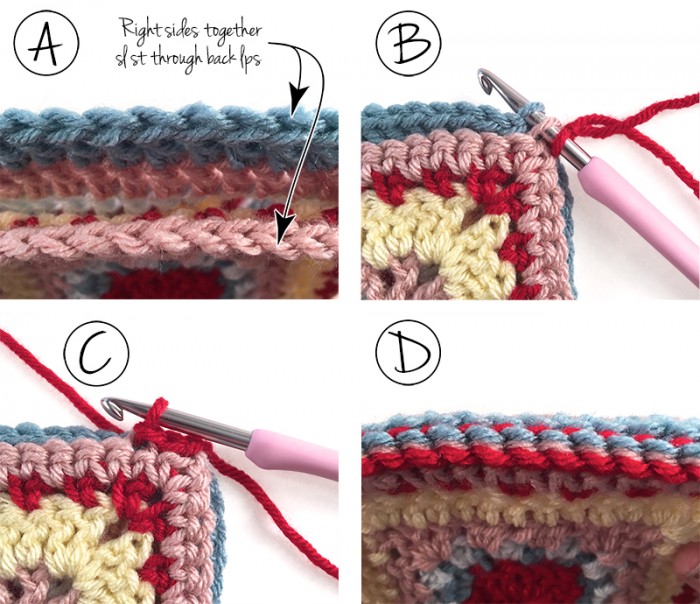 Yarn over and pull through to make your slip stitch, then slip stitch through both layers, back loops only, all the way across (C).
When you finish, it looks like (D).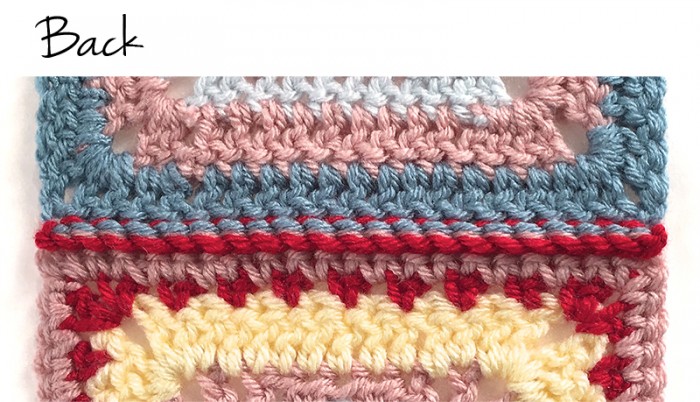 Continue to add blocks in the pattern shown on the graphics downloadable from this post. It will be Hadley, Easton, Hadley, Ruby, Hadley for the first strip of five if you are making the baby blanket size.

This creates your first strip. When we get enough squares made for another strip, we'll go over joining the strips together. Basically you just join in the same manner but I'll show you some more photos of my mother's Cheerful Child as it progresses!
Hope you are enjoying the Cheerful Child CAL! If you need more basic information about it, you can find details in the intro post here.
Carolyn xo