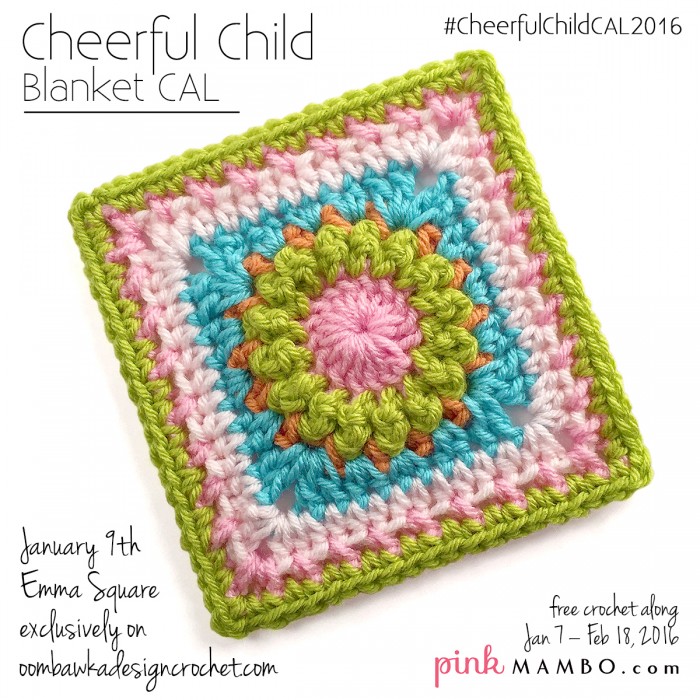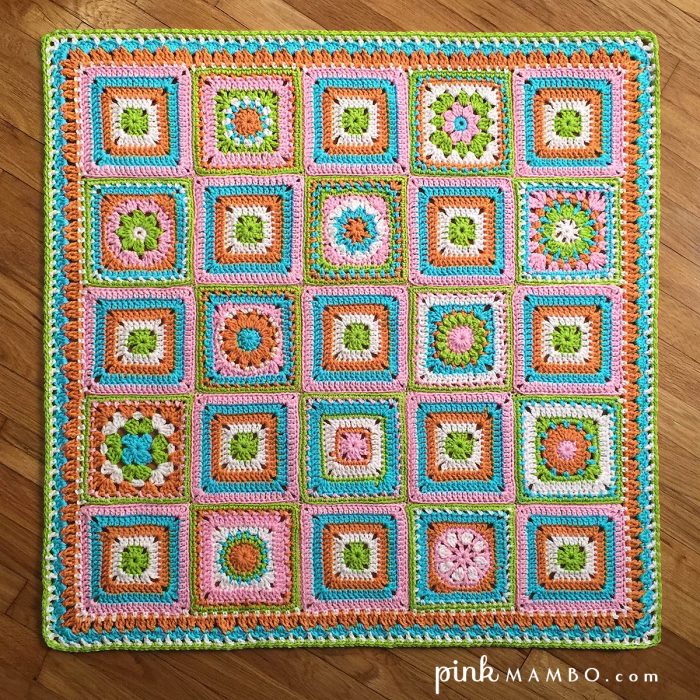 Cheerful Child is a baby blanket CAL here on pinkmambo.com that appears every Monday and Thursday January 7-February 18, 2016. It features granny-style blocks in a variety of designs, all on the easy side.
I designed this blanket for my little granddaughter Taanvi, who is already one year old! I hope she likes it. I chose the colors to match the Heather Bailey fabrics I used to sew curtains and other items for her room. I love that the color combination is unexpected but it works!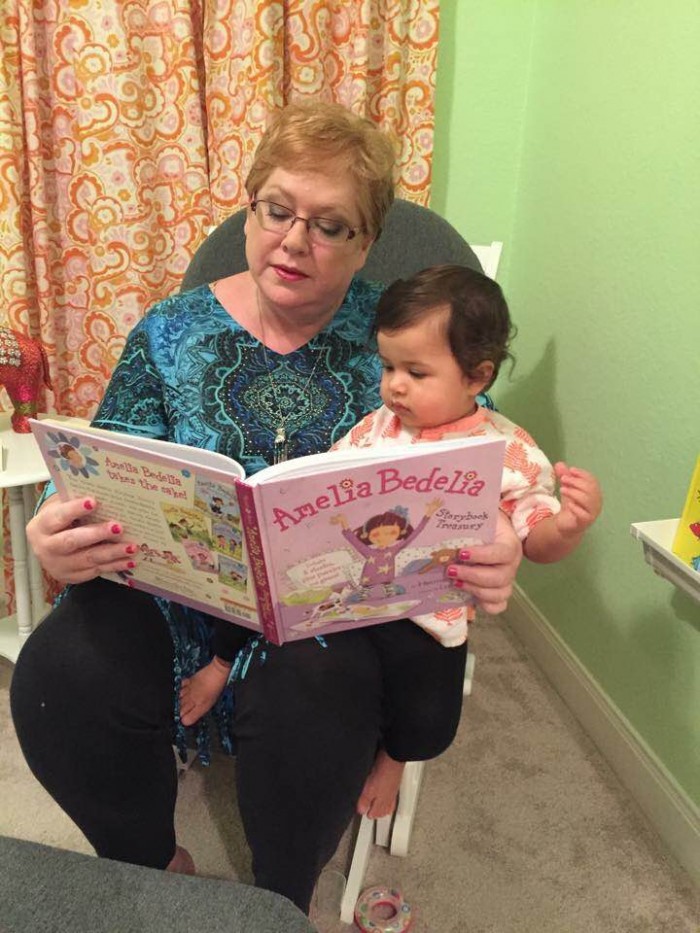 Every other block is a different granny square design–there are 12 of those–and alternating blocks are solid granny squares in the five colors, all made the same–and there are 13 of those. So 25 blocks in all plus a border. My blanket turned out to be 34 1/2″ square made with a size I hook.
Cheerful Child's skill level is adventurous beginner, which means you have knowledge of the basic stitches and are ready to take on a larger, more involved project with a little more texture and combinations of stitches. Experienced crocheters will enjoy the fun of making these fresh and pretty blocks as well.
Each square features round by round photos and written instructions. I hope you will join in the fun of making this cheery, pretty blanket!
Today I'll give you information about the first two squares you can do today, if you wish, and another coming out on Saturday on oombawkacrochetdesign.com.
After that, you'll get a new block design every Monday and Thursday through February 18. These are 6″ blocks and on the easy side, so I decided 2 blocks a week would be a good pace, but of course you don't have to go that fast–just go at the pace that suits you best!
I run a pretty loose crochet along here on Pink Mambo. There's nothing to sign up for and nothing to join so just grab your hooks and start stitching. If you'd like a CAL group to join in Facebook where some people will post about this CAL, I recommend CAL – Crochet A Long. I'm a member there and several people there will be doing this CAL and posting. It's a nice, friendly crochet-only group focused on all kinds of CALS.
Here is a schedule and links to all the blocks and additional information as the posts go live.
Cheerful Child Blanket CAL
by Carolyn Christmas
Materials
5 colors worsted/aran weight category 4 yarn, about 1020 to 1050 yards in all. I chose I Love this Yarn from Hobby Lobby in the following colors, and since each 7-oz skein has 355 yards, one skein of each was plenty:
A–Pink
B–Keylime
C–Desert Glaze
D–Turquoise
E–Soft Pink
I/9/5.50mm hook
Gauge: Gauge is not critical with this project. To get the size shown, gauge for the first few rounds is given with each square pattern.
Special stitches
Special stitches and techniques will be given as needed with each square pattern.
Finished size
Each square is 6″ across; finished blanket is 34 1/2″ square.
Crochet terminology
These patterns are written in US terminology.
Skill level
Adventurous beginner, which means you have knowledge of the basic stitches and are ready to take on a larger, more involved project with a little more texture and combinations of stitches such as clusters, shells and others.
Today's Squares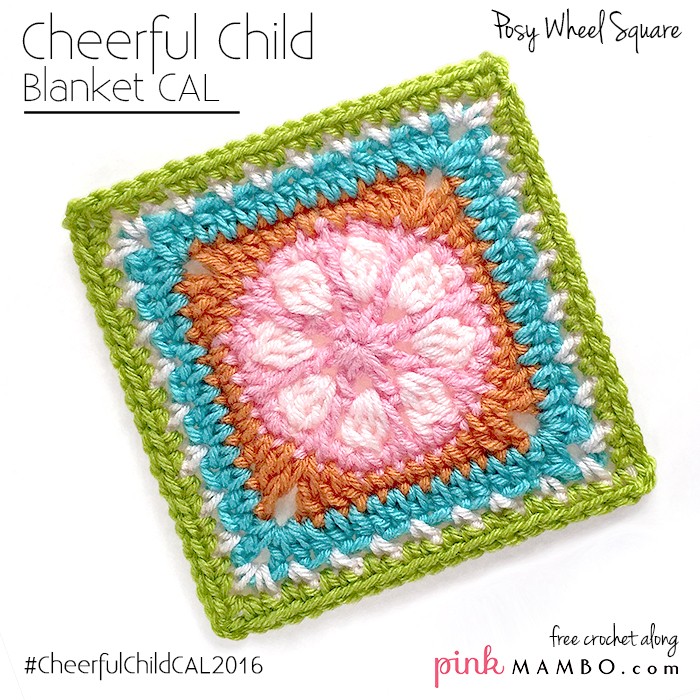 Today we will start with two squares that are already published here on the pinkmambo.com blog. The Posy Wheel Square and the Bullseye Square are both perfect for starting out this CAL, and way back when I designed them, I already had the Cheerful Child blanket in mind.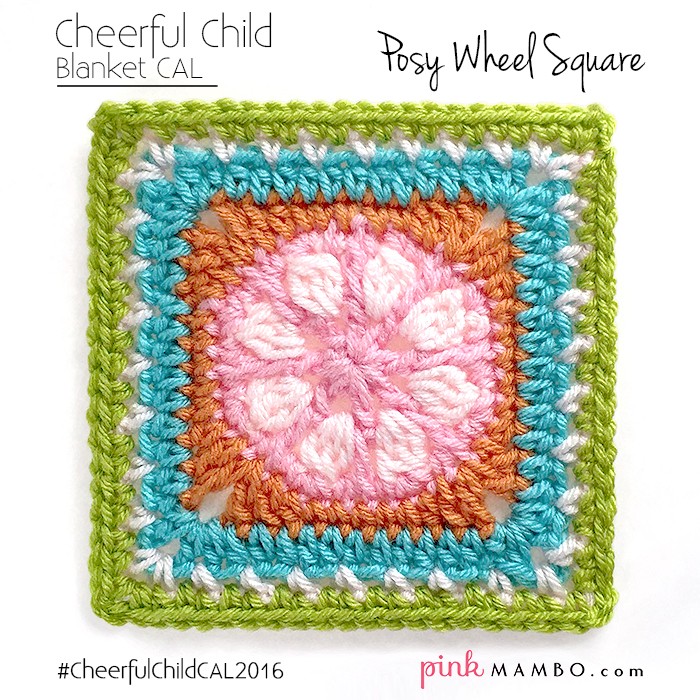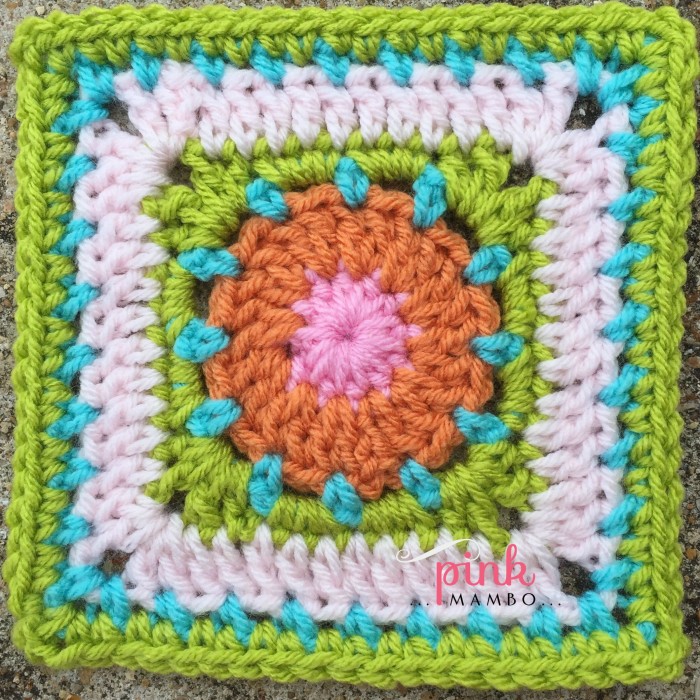 The third square will be the Emma square, which will be featured exclusively on the oombawkadesigncrochet.com blog starting Saturday, January 9.
I hope these squares get you off to a great start! On Monday I'll show you the Hadley square, which is the alternating squares of which you'll need to make 13. Have lots of fun!
Carolyn xo
PS if you think of anything I need to add, please comment below and let me know! Thanks very much.