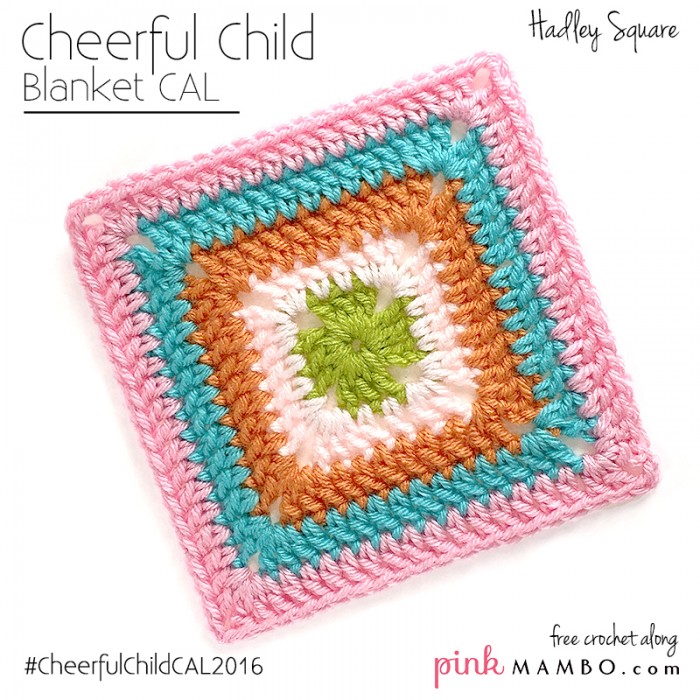 Cheerful Child is a baby blanket CAL on pinkmambo.com that appears every Monday and Thursday January 7-February18, 2016.
If this is the first you've heard of this CAL you'll want to check out all the information in the original CAL post here.
Cheerful Child features granny-style blocks in a variety of designs, all on the easy side. It's made of 25 squares plus a border. Twelve of the squares are different granny-style designs arranged in a checkerboard pattern with the remaining square design, of which you make 13. I have some illustrations in the works showing the grid in different sizes so you can choose to make a different size blanketif you like.
This CAL's skill level is adventurous beginner, which means you have knowledge of the basic stitches and are ready to take on a larger, more involved project with a little more texture and combinations of stitches. Experienced crocheters will enjoy the fun of making these fresh and pretty blocks as well.
Each square features round by round photos and written instructions. I hope you will join in the fun of making this cheery, pretty blanket. This is the fourth square in the CAL. This is Hadley, the pattern you will use to make 13 blocks. I made mine all the same, but you can mix up the colors any way you like.
I run a pretty loose crochet along here on Pink Mambo. There's nothing to sign up for and nothing to join so just grab your hooks and start stitching. If you'd like a CAL group to join in Facebook where some people will post about this CAL, I recommend CAL – Crochet A Long. I'm a member there and several people there will be doing this CAL and posting. It's a nice, friendly crochet-only group focused on all kinds of CALS.
Here is a schedule and links to all the blocks and additional information as the posts go live.
Crochet Hadley Square
by Carolyn Christmas
Note: This is square 4 in the Cheerful Child CAL.
Size
6" square
Materials
5 colors worsted/aran weight yarn. I used I Love This Yarn by Hobby Lobby in the following colors:
A Pink
B Keylime
C Desert Glaze
D Turquoise
E Soft Pink
I/9/5.50mm hook
Gauge
Gauge is not critical with this project. To get the size shown, rounds 1-2 measure 2 1/2 inches.
Special stitches
Needle join/invisible join (optional)
Working in back loops with no holes (optional)
Instructions (make 13)
Rnd 1: With B, ch 5, join with sl st in first ch to form ring (or make a magic ring), ch 3 (counts as dc), 2 dc in ring, ch 2, (3 dc in ring, ch 2) 3 times, join with sl st in top of ch 3. Fasten off. (4 3-dc groups and 4 ch-2 corner sps)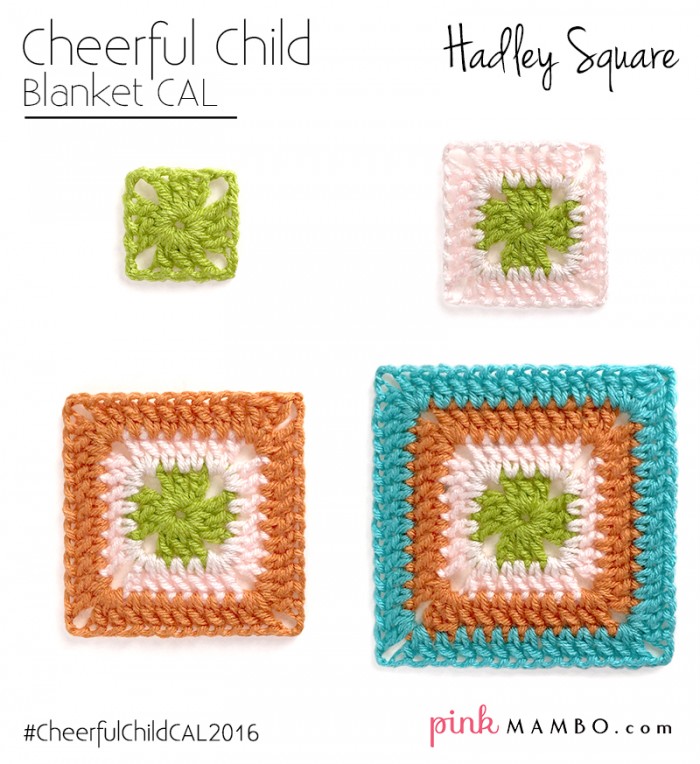 Rnd 2: Join E with sl st in any corner ch-2 sp, ch 3 (counts as dc), (dc, ch 2, 2 dc) in same corner sp, dc in each dc around with (2 dc, ch 2, 2 dc) in each corner sp, join with sl st in top of ch 3. Fasten off. (7 dc on each side and 4 corner ch-2 sps)
Rnds 3-5: Repeat rnd 2 with C (11 sts on each side), then D (15 sts on each side), then A (19 sts on each side).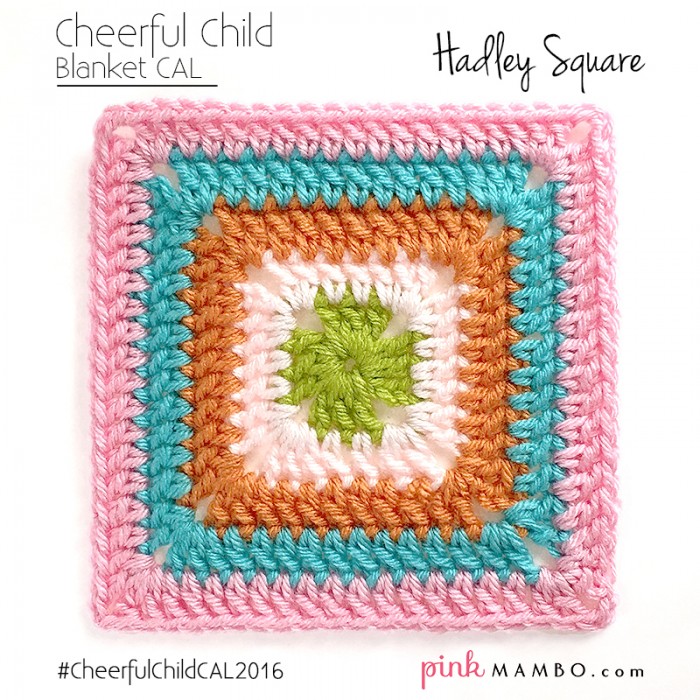 I hope you had fun making this sweet square. I'm looking forward to you joining us on pinkmambo.com for the remainder of the CAL! You can find all the CAL info in the intro post here.
Best wishes,
Carolyn xo